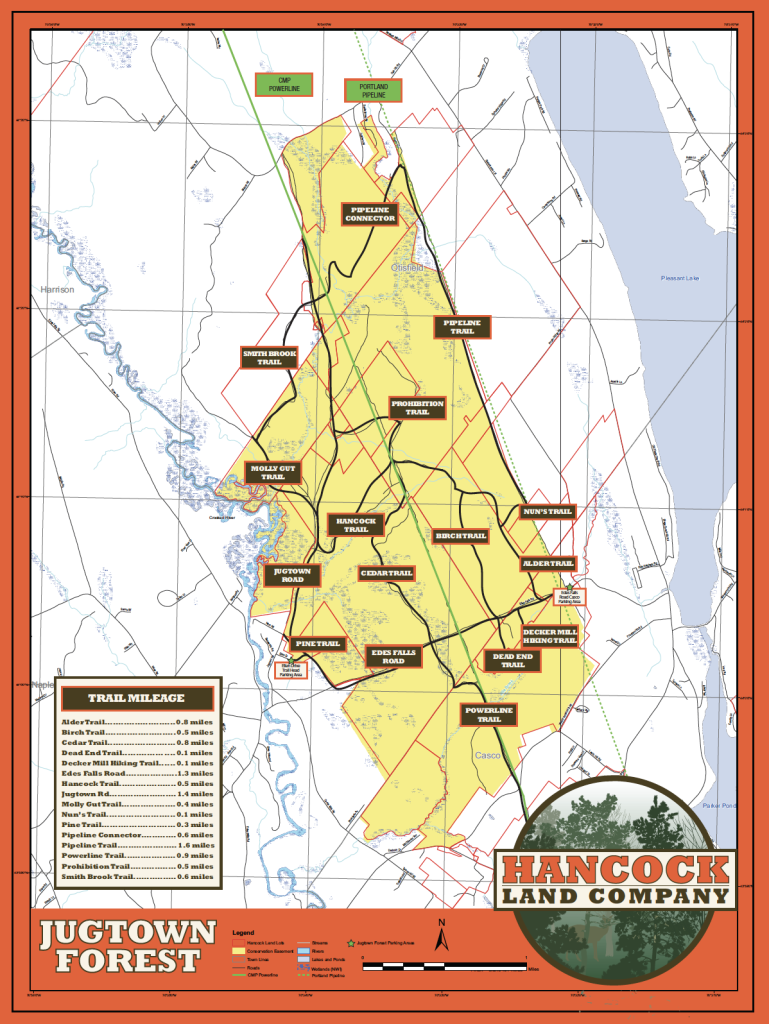 Directions to Edes Falls Road Parking Area in Casco:
From Route 11, take Route 121 through Casco Village and turn at the Hancock Lumber Administrative Offices onto Edes Falls Road. Follow that road down about a mile (road turns to dirt) until you see the Jugtown Forest Trail Map Kiosk. Park outside the gated area and walk or ride in from there to enjoy the forest!
Directions to Ellen Drive Trail Head Parking Area in Naples:
From 302, take Route 11 (Poland Springs Road) approx. 1.8 miles, then turn left onto Cooks Mill Road. Follow that for 1.3 miles and turn right onto Jugtown Road. Ellen Drive is your first right, and the designated parking area is down 300 yards and is marked by a Jugtown Forest Trail Map Kiosk.
If you are interested in property access, log sales, or have any additional questions about our forest, you may contact:
(207) 330-0023
1267 Poland Spring Road, Casco, ME, 04015
Dan Spinzola / dspinzola@hancocklumber.com
---
If you are interested in land sales or purchasing opportunities in our forest, you may contact:
(207) 627-2123
1267 Poland Spring Road, Casco, ME, 04015
Karyn Knights / kknights@hancocklumber.com
Directions To + Through Jugtown
Safety + Respect for the Land
Follow Us For Events + Updates