Trail Head 1/2 mile beyond 4 Edes Falls Road
Casco, ME 04015
Welcome to Hancock's Jugtown Forest!
Our 5,000 acres of privately owned working forest encompass parts of Casco, Naples, and Otisfield. Jugtown Forest is open to the public for responsible recreation including horseback riding, ATVing, snowmobiling, hunting, and some of the best nature trails in Maine. Please enjoy our miles of marked trails in accordance with our rules and regulations. We are happy to open our working forest to you and we encourage you to enjoy it safely!
In 1848, Hancock Lumber began its legacy by purchasing a 400-acre timber stand in Casco, Maine.  Throughout this forest, trees were harvested and hauled to the Crooked River. When manufacturing became an integral part of the business, steam engine portable mills powered were established, which traveled to harvest sites to collect trees. Today, the original granite sawmill pillars still stand in the woods, just a short walk off the Decker Mill hiking trail. It takes 80 -100 years to grow an Eastern White Pine Tree to maturity, so despite our seven generations' history of growing and harvesting trees, we've only been through two harvest cycles in our lifetime. Maine's forests rely on natural regeneration to perpetuate growth and success of its iconic natural resource, the Eastern White Pine tree.
---
Jugtown Forest + Hancock Land Rules
Please enjoy Jugtown Forest and any of Hancock Land's acreage in accordance with the following rules:
All recreational motor vehicles are restricted to trail areas. ATV and motorcycle traffic is permitted May 15 – December 15, Thursday – Sunday with the exception of 7 days/week access from October 15 – November 30, as well as these holidays: Memorial Day, 4th of July and, Labor Day. All others are prohibited. Prudent speed will be observed at all times.
Gates will be open to street vehicles during the firearm deer hunting season, conditions permitting. Limited parking is available at trail heads in Naples and Casco. Vehicles are only allowed on marked trails, please stay off logging trails where we are establishing our next generation of forest. Motor vehicle traffic is not permitted any other time.
No motorized traffic permitted during established quiet time for walkers, May 15 – December 15, Monday – Wednesday. Note: Walkers are welcome anytime, during and beyond quiet hours.
This is a working forest. Areas will be closed during logging operations. Please respect trail closures. Logging equipment always has the right-of-way.
Animal trapping is forbidden.
All of Jugtown Forest is a drug and alcohol-free zone. Smoking is not permitted. Pets are welcome under the owner's restraint.
Please pack out all refuse and litter. Helping to pick up litter along the trail and roadsides is encouraged and greatly appreciated. Dumping of any sort will not be tolerated and violators will be prosecuted to the fullest extent of the law.
No firewood collecting is permitted in the Jugtown Forest. No fires shall be kindled for any reason. Overnight camping is prohibited.
No objects are allowed to be permanently installed in trees. All portable tree stands require written permission in advance of use. Any cutting of vegetation is prohibited.
All State of Maine laws apply when accessing the Jugtown Forest private land.
Enjoy the wonders of nature here AT YOUR OWN RISK. Be courteous and respect the rights of others to enjoy the trails as well.
---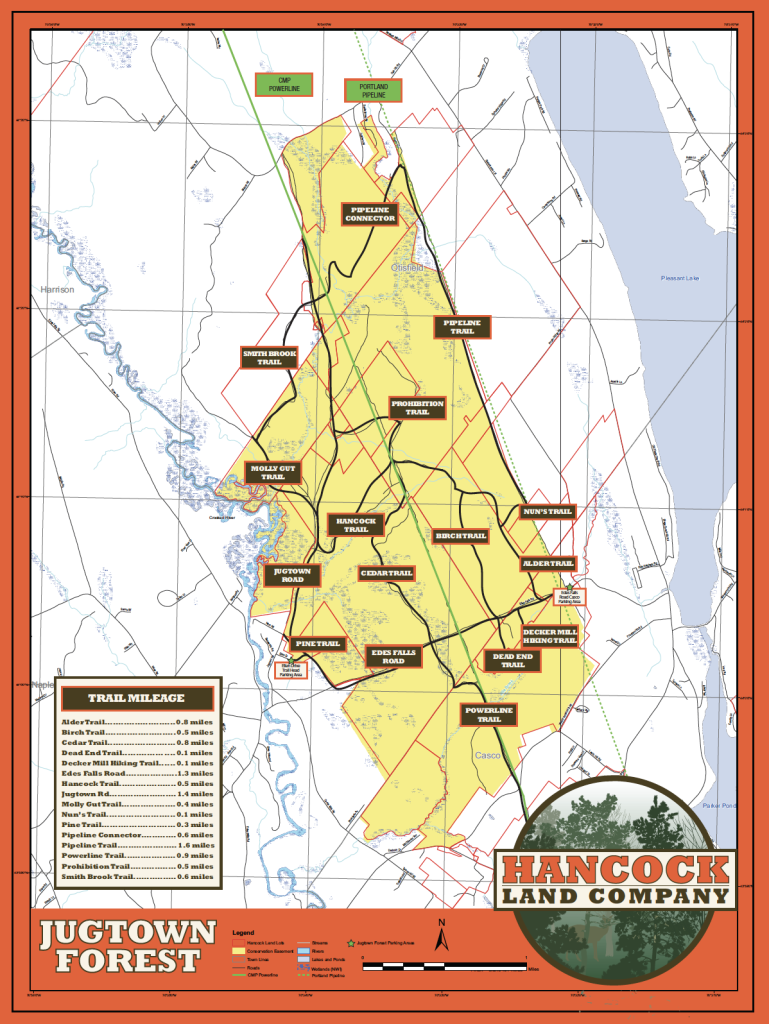 Directions to Edes Falls Road Parking Area in Casco:
From Route 11, take Route 121 through Casco Village and turn at the Hancock Lumber Administrative Offices onto Edes Falls Road. Follow that road down about a mile (road turns to dirt) until you see the Jugtown Forest Trail Map Kiosk. Park outside the gated area and walk or ride in from there to enjoy the forest!
Directions to Ellen Drive Trail Head Parking Area in Naples:
From 302, take Route 11 (Poland Springs Road) approx. 1.8 miles, then turn left onto Cooks Mill Road. Follow that for 1.3 miles and turn right onto Jugtown Road. Ellen Drive is your first right, and the designated parking area is down 300 yards and is marked by a Jugtown Forest Trail Map Kiosk. Click to download map.
If you are interested in property access, log sales, or have any additional questions about our forest, you may contact:
Dan Spinzola / dspinzola@hancocklumber.com / (207) 330-0023
1267 Poland Spring Road, Casco, ME, 04015
---
If you are interested in land sales or purchasing opportunities in our forest, you may contact:
Karyn Knights / kknights@hancocklumber.com / (207) 627-2123
1267 Poland Spring Road, Casco, ME, 04015