Hancock's employee of the year award is given annually to a select group of Hancock Lumber employees whose positive attitude, commitment to quality, and focus on customer service combine to serve as a living example of the core values of our company. Employee of the year award recipients are held in high regard by their peers and set a standard for enthusiastic and effective work for others to respect and emulate. By recognizing them with this award, Hancock Lumber is thanking them for their exceptional contributions to our company and looking to them as a leading example of what the Hancock spirit represents.
---
Simon Kissick – Casco Mill. Simon, a veteran Hancock Lumber employee, starting his career in 2006. When Simon first joined the team he worked in the Moulder department as a general laborer. Now, 13 years later, he is one of our up and coming leaders at the Casco sawmill. He is the key to our success in this department, and a great leader when it comes to safety, quality and engagement. A true steward of Hancock Lumber, we are blessed to have Simon as part of our team. Congratulations, Simon, on earning Employee of the Year!
---
Scott Manfredi – North Conway. Scott started at Hancock Lumber four and a half years ago as YardPro. With his hard work and commitment to learning and growing, he moved to inside sales support. Continuing this track, a couple of years ago he earned the position of North Conway's Logistics Manager. Scott gets along well with both our internal and external customers. He runs a very clean and neat yard. He is a leader when it comes to safety-first, always leading by example and getting his team involved. Besides safety, he works hard at improving company metrics—in particular focusing on OTIF, journey value, delivered ticket value and shrink. Scott is an excellent team member for North Conway, and our company is fortunate to have him on our team!
---
Randy Farrington – Yarmouth. When Harland Storey asked around, looking for advice from the Yarmouth crew on who the Employee of the Year should be, Randy's name kept being mentioned. Anyone who deals with Randy on a regular basis can easily understand why he would be chosen as the employee of the year! Randy is prompt, accurate and complete. He gets a ton accomplished in a day, accurately and completely. He is a great communicator. Communication is key in this business, and Randy keeps everyone who needs to know informed. Randy also expresses appreciation for his fellow employees' efforts, always taking the time to recognize a job well done. The Yarmouth team feels fortunate to have Randy playing a pivotal role between sales, operations and customers. It is certainly challenging at times to satisfy all interests, but Randy's ability to negotiate and communicate keeps everyone on the same page and drives success.
---
Mike Martin – Damariscotta. Every year we go through the process of choosing one person who stood out as an example of everything we look for in an individual to be named "Employee of the Year". Some years that decision gets difficult, as often times you have several people who are deserving of the award—but, we can only choose one. This year, that decision was very easy. Mike is a true example of what you look for from an employee in terms of performance, effort and attitude. Some of the attributes that come to mind when I think of Mike include: dependable, honest, hard-working, and knowledgeable—I could go on. Having said that, the one thing that strikes me most about Mike is his willingness to help out anyone, in any situation. On any given day, you might find him sweeping the floor, making a delivery or taking part in the safety huddle—all things that go beyond his normal day-to-day responsibilities. So for that I say, "Thank you, Mike, for all that you do. Congratulations on earning Employee of the Year!" –Eric Dolloff, GM
---
Kara Brochu – Windham. Kara is a tremendous asset to Windham and Team Hancock. She enthusiastically represents the company and its values to employees and customers. Kara's experience, product knowledge, and desire to be a top performer in our company led to her having a very successful transition from Project Pro to Account Manager in 2018. In less than a full year on the road, Kara found and developed an entirely new customer list and book of business, finishing the year as our #6 seller. It's clear to everyone that knows and works with her that Kara will continue to enjoy great success as an Account Manager at Hancock Lumber. Congratulations, Kara—job well done!!
---
Justin Harkins, Mainely Trusses – Fairfield. Justin Harkins has been employed at Mainely Trusses since 2008. During his tenure he has continually excelled at providing excellent service for our customers and the company. He is always willing to go the extra mile with his responsibilities and is always looking for ways to improve both himself and the company. His communication with customers and co-workers is first class! Justin is constantly at the top of his peers with quote and order volume. It is not uncommon to have a customer contact me to compliment the outstanding service received from Justin. Congratulations, Justin!
---
"Hancock Lumber looks for employees committed to helping our company consistently and continuously improve. Individuals who receive the 'Employee of the Year Award' have demonstrated the ability to effectively and enthusiastically make Hancock Lumber a better place for our employees and customers through their positive attitude and commitment to quality."
–Kevin Hancock, President
---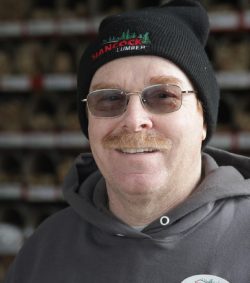 Joe Paille – Bridgton. Joe's steady way and positive attitude are an inspiration for all of us fortunate enough to work with him. As a member of our operations team, he is a rock. Joe shines when leading and mentoring less experienced coworkers, willingly sharing best practices and the 'tricks of our trade'. Recently, Joe transferred from Order Coordinator to Yard Pro, giving us a great role model in customer service. Joe connects well with all and is particularly good at relating to our customers. He holds to a high standard of service and leads others to do the same. On many issues that require a course of action, we all seek his guidance. We are very proud to have Joe as our Employee of the Year.
---
Devin Benson – Bethel Mill. I am honored to announce Devin Benson as Bethel Sawmill's Employee of the Year! Devin has been with the company (and prior owners) for just short of 19 years. Working in both finished products and the green end, Devin's held many positions including grading and management, making him incredibly knowledgeable in the manufacturing process. Along with these skills, Devin also has a positive demeanor that is infectious around the facility; he is a pleasure to work with! It does not matter what the day brings—weather conditions, breakdowns, high productivity, or any other obstacles, Devin always comes into work with a great attitude. Not only is Devin an incredible asset to the company, but he is also active outside of work as a volunteer fire fighter, involved with his energetic daughters' sports and school activities, hunting, and finds time to use his carpentry skills. Thank you, Devin, for your years of service, great work ethic, and positive attitude—we are lucky to have you on Team Hancock!
---
Denise Smith – Brunswick. Brunswick's choice for Employee the Year is Denise Smith. Denise joined the Brunswick team in November of 2017 as a Counter Pro. Denise quickly learned to navigate Hancock's systems, and brought great customer service skills to the Brunswick location. In July of 2018, Denise stepped up to a new position as Sales Coordinator for our busy Kitchen Design Showroom. Denise is always willing to take on something new, and never backs down from a challenge. Whether helping out her fellow employees with a project, or stepping up to help train new employees, Denise is always there to help. A true team player who has a great attitude, understands what the team's goals are, and is a pleasure to work with. Thank you, Denise!
---
Dave Caron – Kennebunk. Dave Caron is one of the most self-less employees at Hancock Lumber. He manages the busy Kennebunk millwork department by himself, handling both inbound and outbound orders. He is acutely aware of every item in the millwork warehouse and if we have trouble finding something, he can tell us exactly where to locate it. Dave is a team player and does what is best for our team every day. Thank you, Dave, for your constant example of self-less devotion and your hard work. You continue to be one of our MVPs year after year!
---
Brandon Lary – Pittsfield Mill. Brandon Lary has been a part of Team Hancock for five years. During that time, he has worked his way into various positions, starting at the moulder pull chain, to leading in the moulder. Brandon's quick to learn and eager to challenge himself. Brandon transferred to the planer mill and quickly built relationships with that department, becoming a key part of the team. Most recently, Brandon took the supervisor's position in January 2019. Energetic and a morale booster, Brandon is all about helping others—whether in his own department or around the entire facility. In Pittsfield we call the 'Employee of the Year' award the 'people's choice award'. Every employee casts a vote for the award recipient. Brandon not only had the most votes in his department, he had many people vote for him from other departments. Congratulations, Brandon!
---
Amy Kohtala – Casco Home Office. Amy joined Team Hancock in 2016 and has been a part of our HR Team since then. Amy is best known for her can-do attitude, her big smile and positivity. She primarily supports HR with benefit and employee responsibilities, but eagerly jumps in to help wherever and whenever she can. She routinely helps other departments at the office when the workload is heavy, or when there is a big rush to organize projects for both retail and sawmill! She is a positive influence on those around her and can always be counted on to seek out and find the good in any situation. We love working with Amy and feel super fortunate to have her be a part of Hancock's Human Resources team. Great job, Amy!
---
Nick Tash – Casco Lumberyard. Nick is a very safe, hardworking, and dedicated employee who provides excellent customer service. Nick is full of positive energy and does a great job participating in lean process improvement ideas. He is a natural leader who gets the job done with a sense of safety, urgency, and accuracy. Nick's abilities are not limited to only helping customers in the yard; he is also able to take care of customers at point of sale, including special order sales. Nick's openness and willingness to look for more efficient processes to improve daily tasks are unmatched. Nick gives 110% each and every day at work and has truly earned the Employee of the Year award! Congratulations, Nick!
Read Denise Smith's Story
Read Kara Kennison's Story
Read Kevin Hancock's Story