Team Hancock is celebrating employees of the year and years of service recipients. Congratulations to everyone on Team Hancock celebrating a milestone years of service anniversary and for those who were awarded the employee of the year accolade in 2021!
EMPLOYEE OF THE YEAR AWARDS. This award is given annually to a select group of Hancock Lumber employees whose positive attitudes, commitment to quality and focus on customer service combine to serve as a living example of the core values of our company. Employee of the Year award recipients are held in high regard by their peers and set a standard for enthusiastic and effective work for others to respect and emulate. By recognizing them with this award, Hancock Lumber is thanking them for their exceptional contributions to our company and looking to them as a leading example of what the Hancock spirit represents. A long standing tradition, read about our 2020 recipients featured on last year's on our blog.
Kellie Wilcox – NORTH CONWAY
It is with great excitement that the North Conway team announces their 2021 employee of the year— Kellie Wilcox. With little knowledge of the lumber and building materials industry, Kellie applied for the position of Counter Pro two years ago. During the interview process she came across as very personable, full of energy, and self-motivated. She made it quite clear that learning products or our systems would be a non-issue. She was confident and proved early on she was more than up to any task.
After a year as a Counter Pro, Kellie stepped into the position of Inside Support, working with the Kitchen Designers for both North Conway and Bridgton. She has also assumed a selling role assisting customers who want to purchase countertops, vanities, tile, and flooring. On top of this, Kellie is North Conway's leader with onboarding and mentoring new employees.
Kellie has an extremely positive attitude, is a total team player that gets along with everyone—employees and customers alike. She embraces Hancock's everybody leads culture and is always willing to share ideas for improvement opportunities. Hancock Lumber is very fortunate to have Kellie on our team!
Jim Vitello – KENNEBUNK
Our Kennebunk location is thrilled to announce their 2021 employee of the year is Jim Vitello. Kennebunk sought out employee input and feedback for who they thought represented and deserved the employee of the year—and, Jim Vitello was this year's winner.
Jim has high expectations and standards for himself and for what our vendors provide to our customers. Because of that, he sets the bar high for his peers and the whole team in Kennebunk. Jim is an integral part of our team's success and leads by example—he sets the tone with setting such high expectations.
Jim is someone who will not only go the extra mile to help service a customer, but also to help a co-worker. Always willing to share his vast amount of product knowledge and experience with the team, Jim is a true mentor in all areas of the business. The Kennebunk team appreciates what he has accomplished through his commitment to hard work and setting the service and quality bars so high. We are lucky to have Jim on Team Hancock. Congratulations and thank you for all you do and the way you do it!
Jim Foster – SACO
What's there to say about an employee who's been around as long and done as many different roles as Jim Foster besides THANK YOU?! Jim has been an integral part of getting the new Saco location up and running like a well-oiled machine. Jim's passion for the business and willingness to help anyone at any time has been crucial to Saco's success during its first full year of operation.
Jim currently is in possession of the coveted golden hammer—an award given to the longest tenured, currently employed Hancock Lumber employee. With that tenure comes an incalculable amount of knowledge and experience; and, Jim is always more than happy and willing to share all he's learned with his co-workers. Jim's ability to connect with anyone who walks through the door—whether it be a teammate, a customer, or a vendor—is what helps make the Saco location such a welcoming place!
Thank you, Jim, for your unwavering dedication to your fellow employees, the business, and our customers. Your commitment and dedication to Hancock Lumber is admirable. Congratulations on being named Saco's 2021 employee of the year!
Lucas Perham – BRIDGTON
When we first met Lucas in his interview a year ago, we were truly unaware of the gold we had struck when we decided to bring him on. He was a young and rather quiet high school graduate, with certainly a polite way about him, but with little experience in our industry. However, as we have been pleased to discover over the last year, he has very quickly developed and showcased every trait that we want from a quality Hancock Lumber employee, even earning recognition from his peers. Lucas has met the highest standard within one year of working for Team Hancock, being named Bridgton's 2021 employee of the year!
Lucas' positive attitude is seemingly unbreakable. On any given day, no matter how good or bad, he is most certain to tell you that things are "fantastic." It's almost a super-power. In fact, he's often called by his superhero name, "Captain Fantastic"—mostly by an over-enthusiastic GM. He is a committed team player who is focused on quality across the board. And, despite being the youngest member of our team, this has not kept him from being seen as a leader in our operations. We are truly blessed to have Lucas here in Bridgton. We hope he stays for a long time and continues to realize his potential with Hancock Lumber. Congratulations, Lucas!
Rodney Basford – PITTSFIELD MILL
Rodney has over 30 years of service at Hancock Lumber, having spent most of his career in the maintenance department. Today, Rodney is currently the de-barker and sash operator—but, on a moment's notice, he jumps in whenever and wherever he is needed. Seeing Rodney be selected for the "people's choice award" comes as no surprise to us. Not only did he have the most votes in the mill, he was also the first and only person to have votes from all six departments.
Rodney is what Hancock Lumber is all about—always positive and willing to do whatever it takes to get the job done. He is our 'go-to' guy. Any issue mill-wide we struggle with you always hear, "Where is Rodney?" It does not matter if he is home or at work, he steps up and helps every single person through whatever issue they are going through. We are very proud to name Rodney as Pittsfield's employee of the year, and we all could not agree more on this choice. Congrats!
Arthur Porter – CASCO RETAIL
After doing an anonymous peer voting process, the Casco location is recognizing Arthur Porter as their 2021 employee of the year! Each employee selected who they thought deserved this accolade, including why they chose that person. Arthur is described by his fellow teammates as someone who has a great personality, a work ethic that's second to none, top-notch customer service, and a positive attitude. On top of that, Arthur is very sales driven, dedicated to helping grow Casco's customer base and sales by opening new accounts.
Arthur joined Hancock Lumber in September 2020 as a Counter Pro. From the start, he was a solid addition to the already great team in place, bringing enthusiasm and over a decade of customer service experience with him. Arthur hit the ground running and quickly started selling projects and opening new accounts. He has proven himself to be a very solid Counter Pro in the past year, always looking for ways to help the entire Casco team. Arthur adds a lot of positivity and stewardship to the Team Hancock.
One of Arthur's most notable traits is how he is always looking to improve himself, expanding his knowledge in the industry and with vendors of the products we offer. Arthur has a true passion for providing our customers with exceptional service and shares the team's shared mindset of a safety-driven, clean, and positive work environment! Keep up the great work and thank you for all that you do each day!
Stephen Norwood – BRUNSWICK
Our Brunswick location is fortunate to have someone like Stephen on the team. As a Counter Pro, Stephen is part of a great group that holds each other to a high standard when it comes to customer service and the overall experience at the store. While meeting these high standards, Stephen regularly takes on more tasks, jumping in to help the overall team succeed. He is always willing to go the extra distance and put in the extra work, all while staying positive and leading by example. He plays a key role in inventory with his involvement in SSO's, cycle counts, and more. He is always willing to share this knowledge and help Team Hancock improve in Brunswick, as well as other locations.
Stephen is an integral part of the Brunswick customer and employee experience and we're thankful to have him on our team. Congratulations, Stephen, on earning the 2021 employee of the year award!
Tyler Foss – BETHEL SAWMILL
Tyler started working for Hancock Lumber in the Fall of 2011. Over the years, Tyler has had many roles and has excelled in all of them. Tyler has a very strong working knowledge of the yard and of our inventory allowing him to work very quickly and efficiently. He excels in inventory management, load building, and truck loading. Tyler can often load a truck in minutes which allows time-strapped truckers to turn loads quickly, helping facilitate getting them in and out of our facility efficiently. Tyler is also very flexible with pickups, often staying late to accommodate sometimes chaotic trucking schedules.
Tyler can often be found helping in many other ways around the mill—whether cleaning in the yard, tarping loads, or moving trailers with the jockey truck. Tyler brings a strong work ethic, a confident ability to problem solve, and a positive (often humorously sarcastic) attitude that always helps to lighten the mood. Tyler is very helpful, well respected, and an all-around great co-worker. Congratulations to Tyler on being named Bethel's 2021 employee of the year!
Eric Stevenson – YARMOUTH
It is with great enthusiasm that our Yarmouth team announces Eric Stevenson as their employee of the year! Eric is a Project Pro at our Yarmouth location where his co-workers (pretty convincingly!) named him as the team's employee of the year. Eric is one of those guys who will do anything for you. He is quick to jump in and help his co-workers with anything. Eric always seems to be in a good mood which is why he is such an enjoyable co-worker.
In addition to his co-workers selecting him for this award, several customers have gone out of their way this year saying what a pleasure it was working with Eric. He is patient, an attentive listener, and an effective communicator, making him a valuable resource for both his co-workers and customers.
Eric's Hancock Lumber career started while he was in high school working as a Yard Pro. He quickly became an Order Coordinator and a key member of our logistics team. A few years back, Eric inquired about an open Project Pro position and, despite the learning curve and adjustments going from operations to sales, Eric is thriving. The Yarmouth team is proud of Eric and his growth with the company—but, more than that, he is just a fun-loving guy who is enjoyable to be around. Congratulations to Eric on being named by his peers as Yarmouth's 2021 employee of the year!
Larry Phillips – WINDHAM
Hancock Lumber's Windham 2021 employee of the year award goes to Larry Phillips. Customers and peers alike enjoy seeing and working with Larry because of his positive attitude and willingness to help whenever and wherever he is needed. Larry goes above and beyond to make sure that our customers have a positive experience when visiting our location.
When not helping a customer or fellow team member, Larry takes the initiative to make sure our warehouse is a safe, clean, and organized space for us to work in. Windham would not be what it is without all that Larry does, day in and day out. His consistency, positive attitude, and extra effort have not gone unnoticed. Please join us in celebrating Larry Phillips as Windham's 2021 employee of the year!
Jake McAllister – CASCO SAWMILL
Jake started work for Team Hancock's Casco Sawmill in December of 2017. Since then, he's been part of our Planer Mill team. In this short time, he has grown to be one of the top performers in this area. In October of 2020, he became a NeLMA-certified grader and continues to be in our daily rotation of grading.
Nate Edwards commented on him earning employee of the year, "Jake has not missed an unscheduled day off from work throughout the entire two year pandemic—and, he is an excellent co-worker and a great example setter."
Finished products manager, Dan Wetmore, added, "Jake comes to work every day with a great can-do attitude, always in a positive mood, and tries to get others involved and on board." In the fall of 2021 one of our seasoned planer operators left and Jake was next in line to learn. At the same time, we were installing a new state-of-the art planer. Jake not only embraced the challenge, he also has become a big part of the planer mill team's overall success. We are all very grateful to have Jake on our team—with his positive attitude and willingness to learn and grow, his future will continue to be bright at Hancock Lumber. Congratulations and great job, Jake!
Brian Etheridge – DAMARISCOTTA
In a year where everything was upside down, you really needed your people to step up and do more than normal. In 2021 everyone was challenged in this way, and we had several performances that really shined through. One individual, Brian Etheridge, was definitely one of those people whose performance really exemplified what we look for in all of our employees. He's kind of become like "Old Faithful" in Damariscotta—any time we need something, Brian is there to help us out. When we were down two drivers this fall, Brian just kept chugging along carrying the load.
In addition to his great work performance and attitude, he has become our own internal "cruise-ship director." Whenever we have events or celebrations, he's in charge of the entertainment. During our 'Best Places to Work' cookout celebrations, he's always in charge of the music—and this year he organized a corn hole tournament which turned out to be a blast for the entire crew. Every year at our holiday party he organizes a 'Yankee Swap' event which has become quite the tradition! Thank you, Brian, for everything you do and congratulations on being named Damariscotta's employee of the year for the second time!
Judy Rancourt – MAINELY TRUSSES
Judy Rancourt began her career with Mainely Trusses in 2007 and she has been a key team member since day one! Our team has benefited from Judy's strong work ethic, positive outlook, and reliability. She is extremely skilled with numbers and spreadsheets and always rises to the challenge when she's needed to crunch numbers and produce critical data. She expertly manages all of the numbers related to the inventory at Mainely Trusses and has done so for many years, providing critical data required to keep our team supplied with all of the lumber and plates needed to build trusses.
Additionally, Judy makes sure that all other supplies for the office are always available so that we can all do our jobs efficiently. Mainely Trusses is lucky to have Judy on the team and we are a much better place because of her! Thank you, and congratulations on earning our 2021 employee of the year award!
Kristy Beaulieu, Jessica Cote, & Lisa Potvin – HOME OFFICE
Our Home Office HR trio—Lisa Potvin, Kristy Beaulieu and Jessica Cote—is being recognized for their amazing contributions in 2021 with appreciation for their continual effort in helping to navigate Covid within our Hancock Lumber walls and for their seamless effort in on-boarding our new teams with our Lapointe and Winnipesaukee Lumber acquisitions!
This team works behind the scenes to directly enhance the employee experience, from benefits to payroll, and went above and beyond in supporting each person directly. What the rest of the world experienced was calm and collected individuals going about their daily work and dealing with the added pressures of Covid conversations. Day in and day out, this team kept our protocols prioritized and our data in order, working tirelessly without any sort of fuss.
Thank you Lisa, Kristy, and Jess for your outstanding contributions in 2021—for working so well together as a team, for navigating a most challenging landscape, and for truly helping to make this a better place to work! A special thanks and appreciation to the three of you—we are so fortunate to have you all on our team.
Colby Morse – HOME OFFICE
It's just the kind of year to shake things up—and, at the Home Office, we've chosen to award two employee of the year accolades. Our 2021 individual award for employee of the year at the Home Office goes to Colby Morse. A valuable member of the finance team since joining Hancock Lumber in 1999, Colby works across all aspects of the company in his role of Accounting Manager.
Colby's key roles include divisional budgeting, forecasting, and monthly accounting where he uses his outstanding attention to detail to analyze and prepare these reports. Colby's strengths are his amazing organizational skills and work habits—he has the most organized office and desk in the company! All key capital projects that the company undertakes are analyzed by Colby before a commitment is made. His knowledge, analytical skills, and financial analysis help to ensure all projects will be successful.
Colby provides timely and effective internal customer service by responding quickly and effectively to any question, including a variety of ad hoc data requests from all areas of the company. A self-starter who gets things done, Colby exemplifies Team Hancock's "everybody leads" culture. Thank you, Colby, for being a calm and consistent presence within the team and for your dedication to your role—you make a difference every day!
Congratulations to all of our Employee of the Year recipients!
---
YEARS OF SERVICE ANNIVERSARY CELEBRATIONS.
Thank you and congratulations to the following employees with 25+ years of service!
Twenty-five years:
---
Thirty years: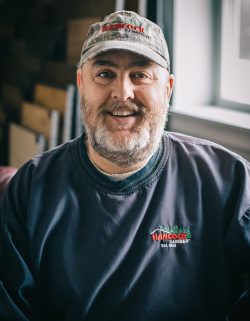 ---
Thirty-five years:
---
Forty years:
Read Arthur Woodcock's Story
Read Eric Stevenson's Story
Read Scott Libby's Story
Read Marc Dubreuil's Story
Read Kellie Wilcox's Story
Read Jim Vitello's Story
Read Judy Rancourt's Story
Read Jim Foster's Story
Read Brian Etheridge's Story
Read Jacob McAllister's Story
Read Larry Phillips's Story
Read Colby Morse's Story
Read Tyler Foss's Story
Read Steven Norwood's Story
Read Lucas Perham's Story
Read Rodney Basford's Story
Read Arthur Porter's Story
Read Andy Bean's Story
Read Jeff Hall's Story