SHARP Safety Certification: Hancock Sawmill Trifecta!
All three of Hancock Lumber's Eastern White Pine manufacturing facilities have earned certification into the United States Department of Labor's (USDOL) Safety and Health Achievement Recognition Program (SHARP), with their Pittsfield mill most recently becoming SHARP certified . The USDOL recognizes small business employers who have used OSHA's consultation program services and operate an exemplary injury and illness prevention program. Steve Greeley, Director of Workplace Safety & Health Division at the Maine Department of Labor was on hand to present the Pittsfield team with the award and had this to say,  "This is my favorite part of my job, introducing the newest SHARP site in the state of Maine, Hancock Lumber in Pittsfield. SHARP (Safety and Health Achievement Recognition Program), recognizes employers who operate an exemplary safety and health management system. Acceptance into SHARP is an achievement status that will single you out among your business peers as a model for worksite safety and health."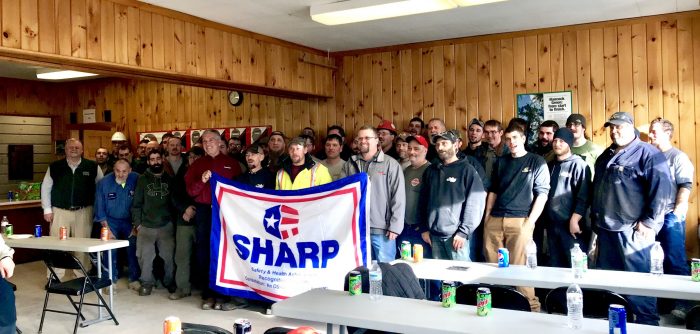 Acceptance of a company's worksite into SHARP from OSHA is a significant achievement. Fewer than 2,000 companies nationwide have earned SHARP certification, and out of 44,000 companies in Maine, fewer than 60 sites have earned SHARP certification. In a 'high-hazard' industry such as lumber manufacturing, this is a tremendous accomplishment and puts the company in a best in class safety category. Team Hancock's top priority is safety and every employee takes great pride in his or her role to ensure a safe worksite each day. Click here to view a list of all the Maine companies in the SHARP program.
Having a company with all 3 of their manufacturing divisions in SHARP is a really big deal! Our Pittsfield team celebrated this accomplishment earlier this week with an award ceremony luncheon.  The true culture and commitment to safety was captured as multiple members of the team got up to speak to the group. Here are a few of the quotes captured from the event:
Gregg Speed, Director of Safety at Hancock Lumber: "To become SHARP certified takes a lot of energy, effort and focus, and I couldn't be more proud of what you all have accomplished and where we are today. This is a day to say 'thank you' and recognize you here in Maine and Nationally, Hancock Lumber Pittsfield is now listed as a 'Best of the Best' in OSHA's SHARP certification program."
---
Dennis Verrill, General Manager of Hancock Lumber's Pittsfield Sawmill: "I'm so proud of you guys, your involvement in identifying opportunities where we could improve and solving problems to get us to this level, making this company a safer place to work everyday."
---
Kevin Hancock, President + CEO of Hancock Lumber Company: "I'm super excited about you all, this team, this location, and everything that is happening here. I don't know if you can feel it, because you are in it everyday working so hard, but there is just a great energy here. Where does that energy come from? It comes from you. It's that combination of care and pride that you bring to what you are doing here at Hancock Lumber."
Congratulations to our entire sawmill division for being SHARP safety certified– what a team effort!
To learn more about the SHARP program, please visit their website.