Hancock Helps 'Make-a-Wish' Dream Come True.
Last month Hancock Lumber helped make a local boy's Make-a-Wish dream come true.  Scott Pease, one of Hancock's Procurement Foresters, sits on the executive committee for the SIC (Maine SFI Implementation Committee) here in Maine. With his help, the group stepped up to get involved and donate time and materials to the local project, making Kyan Macdonald's dream a reality.
Rather than a trip to Disney or meeting a famous athlete, Kyan wanted a gift that would last–his own personal cabin.  Hancock Lumber donated Eastern White Pine products they manufacture for the siding and trim materials.  Scott helped bring the sponsorship together, even lending a hand to put the finishing pieces on before the grand reveal. Members from the Make-a-Wish foundation, Kyan's family, Hancock Lumber, and various media outlets attended the surprise reveal. A special thank you to Kevin Murphy for capturing these precious moments that will last a lifetime–to view the complete album, click here.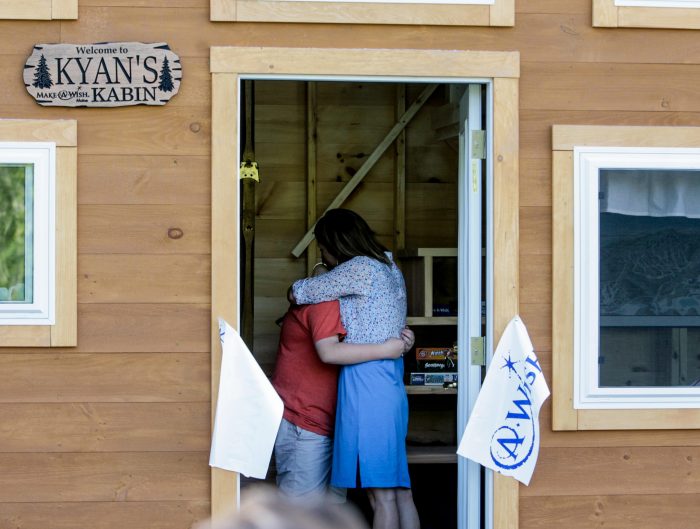 Kyan, a 13-year old boy from Bridgton, was diagnosed with acute myeloid leukemia, rocking the then fifth grader's world, his family, and his community. After undergoing treatment, months of hospital stays, a bone marrow transplant, and more hospitalization,  he is now currently in remission.  His Make-a-Wish dream was to have a tiny home on his property–Kyan's Kabin–that would last for years to come. And, now, that dream is a reality.  Complete with two lofts, built-in storage and windows letting in plenty of light, the team unveiled the cabin to Kyan and his family upon returning home from a trip to Vermont.
The entire community has rallied to support the Macdonald family–from the first moments they learned of Kyan's leukemia diagnosis, through fundraising efforts and bone marrow match drives, hospital stays and scares, remission, returning home and finally going back to school.  September is Childhood Cancer Awareness month and in honor of Kyan, his family, and remission, we are proud to share this story and be a small part of making his dream come true.