---
Giving back to our communities is an important part of Hancock Lumber's culture. Take a look at some of our recent donations – both near and far – to see ways we're helping our communities. 
Partnership with Children's Museum + Theater of Maine Continues
For over a decade, we have been a proud sponsor of the Children's Museum + Theater of Maine (CMTM). Our partnership began with our Tree to Timber exhibit and will continue with our sponsorship of the new WoodWorks Makerspace exhibit. Team Hancock will also donate hobby wood and by-products for hands-on learning and building. If you have little learners in your world, we highly recommend checking out this new state-of-the-art museum at Thompson's Point in Portland!
"We are thrilled that Hancock Lumber is sponsoring the WoodWorks component of our Makerspace, continuing a decades-long partnership between the two entities. Thanks to support from Hancock Lumber, visitors to the Museum + Theatre will get hands-on experience working with wood and its by-products, using tools such as hammers, drills, saws, and more. This real-world opportunity is often difficult to find for, and we are grateful to Hancock Lumber for helping make it a reality! The exhibit continues to be one of the most popular areas in our brand new facility." 
—Julie Butcher Pezzino, Executive Director

Area School Benefits from Windham Lumberyard Donation
Our Windham team donated building materials to a senior capstone project at Poland High School. The senior constructed a GaGa pit on the school grounds for the high school and middle school teams to use. A GaGa pit is a large fenced-in area that typically is an octagon or a hexagon shape that consists of flat wood walls on a smooth sand surface. The game played inside is called GaGa ball, and the number of players varies. It is played with a ball and players must constantly move to avoid being tagged out. Poland High School used to have one before a new middle school extension was built, but it was removed to make room for the new building.
"For my senior project, I decided to create an end product that would leave a lasting impact and positive impression on future students. Recently, there was an addition added onto Bruce M. Whittier Middle School that resulted in the destruction of the existing GaGa pit. It had been a fun activity that brought people together, helped promote getting outside and staying active, and developed healthy competition. I always wanted there to be a GaGa pit to replace the old one, in order to bring back that sense of community and togetherness in a different way. With the materials donated by Hancock Lumber my senior project was possible and has been completed for the community."
– Willa G., Poland Regional High School Senior
Giving Back in Kennebunk Helps Local Scout

Our team in Kennebunk donated building materials for a local Eagle Scout project. The triple bin composter and educational board are located at the Kennebunkport Conservation Trust. Aimed to inform about the composting process, what type of materials can be composted, and what the benefits are of composting, this project is a helpful tool for the community. The Eagle Scout who created these bins hopes that they have a long-term impact on the community. Created in 1911, Eagle Scout is the highest rank that can be achieved. Because it takes years of hard work, service, and determination to become an Eagle Scout, this prestigious milestone is recognized across the country and the world.
Wolfeboro Donates Tools to Local Fire Department
Our newest location in Wolfeboro recently partnered with the Center Ossipee Fire Department (COFD) to outfit a new squad truck with equipment. "Band saws are important for rescues," says Corey Copp, a 12-year veteran of the COFD and a member of Team Hancock in Wolfeboro. "The equipment helped get the new truck on the road faster." And, the teal of the tools really pops against the bright red of the new fire engine!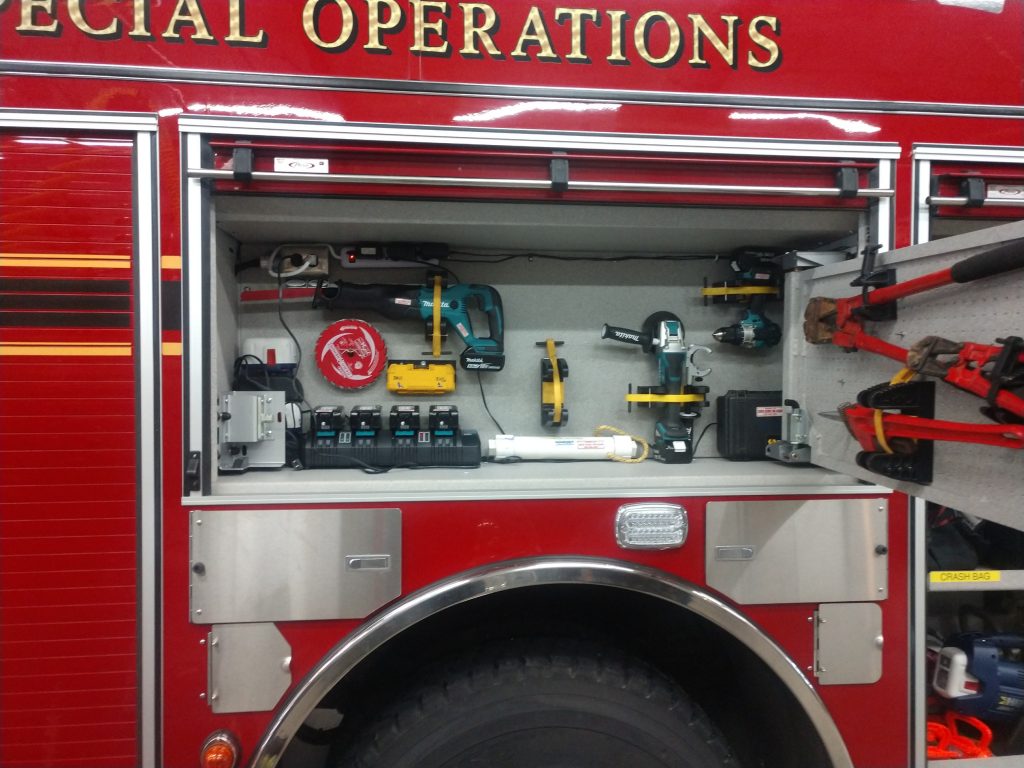 Building Materials Donation Supports Carpentry Competition
High school students from all around Maine recently competed in the Skills USA event. An opportunity to gain recognition, build confidence, and show off skills, the event focuses on various trades and training the next generation of workers. Team Hancock donated nearly $5,000 worth of building materials for the students who entered the carpentry competition.
"The Skills Maine Carpentry competition would not have been possible without the generous building materials donation from Hancock Lumber. The Maine chapter of Skills USA is a small organization with limited resources. Without the support of community partners we would not be able to run these events. The skills competition is vital in the training of the next generation of highly skilled trades people; they are the future of the construction industry!" 
—Frank Kehoe, Maine State Skills Carpentry Chair + Carpentry Instructor (PATHS) 
WCSH6 featured the Skills Maine competition recently on the news. The bronze, silver, and gold finalists will then move on to the national competition in Nashville later this year.
Giving Back Beyond Maine: Pine Donation Heads from Casco to the Pine Ridge Indian Reservation
Our Casco sawmill donated and shipped a load of 12″ industrial pine to Re-Member, an independent, non-profit organization working with the Oglala Lakota Nation on the Pine Ridge Reservation in South Dakota.. Our made-in-Maine pine boards will be used around the reservation and surrounding communities to address immediate housing / project needs.  Volunteer crews use the wood to construct decks, wheelchair ramps and skirt trailers, along with beds and outhouses in their shop that are then delivered to families and individuals living on the Pine Ridge Reservation.
According to their website, Re-member's mission is:
Responding to immediate needs, we provide resources that improve the quality of life for members of the Oglala Lakota Nation, and create meaningful opportunities to build understanding for our volunteers.
Founded in 1998, Re-Member is among the longest serving non-profit organizations on Pine Ridge and is not affiliated with any religious, political, or policy group. CEO Kevin Hancock traveled to Re-Member in May 2022 where he had the opportunity to see the product being used and meet the volunteers doing the work. To learn more about their organization, visit their website.
---