A Casco tradition since 1935, Casco Days returned this year after the pandemic in full force. Closing for the pandemic in 2020 was only the second cancellation of this local tradition since it started 86 years ago!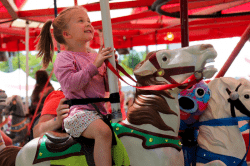 As one of the only 100% volunteer-run fairs in the state of Maine, Casco Days is truly a unique family and community event.
"I love it," says longtime volunteer Jordan Magiera. "It's a community effort that is amazing to see. We set up in just three weeks. To bring the smiles to all those kids.. it's been the one thing I look forward to, especially since COVID."
Day one of the fair brought rain, but it had no affect on the smiles of those attending that night. Friday and Saturday the skies cleared and the crowds gathered. Friday night the children's parade took place, complete with mermaids, whoopie pies, and chipmunks. The firework show lit up the sky and games were played and won all night.
Saturday's festivities lasted throughout the entire day. Beginning with the annual pancake breakfast and 4-mile road race, the traditions continued in 2021. The grand parade showcased classic cars and community fire trucks. Our very own Forest Hancock was even seen giving out hugs, high fives, and candy to kids along the parade route. Saturday also featured live music from KindKids.
Some of the volunteers shared reasons why they continue to spend the last weekend in July at Casco Days. One common theme stood out: community, which is one of Team Hancock's core values and a reason why we continue to help run the festival – from board positions to midway set up, running the rides, and volunteering in booths and capturing photos, Team Hancock is a big part of the event.
"The most important thing to me about Casco Days is the small town feel to it," commented volunteer photographer Kevin Murphy. "Everybody knows everybody and everybody takes care of each other."
"I love being down here," says volunteer Paul Moscoso. "I love the rural community and the small village, small town atmosphere. It's refreshing – it's so nice! It does feel like home."
Casco Days volunteers and attendees are all looking forward to July 2022 when the fair resumes and the fun starts again.
Pictures of the event, dating back to 2006, can be found by clicking here.
Chasing Maine created a video of the event, which can be watched here.
Until next year!