Take a look at a few community stories from around the company!
Innovative Veterans' shelter initiative in Boothbay!
Damariscotta, ME – Three local Veterans in the Boothbay area have rallied to try and solve a ubiquitous problem for Veterans here in maine, and across the nation. All Veterans themselves, the trio is in the early stages of producing shelters for homeless Veterans by converting job trailers into individual shelters where someone can get out of the weather for a day, week, or longer. Support from local businesses, including Hancock Lumber's Damariscotta store, has enabled this Veterans group to bring these trailers to life, and even capture national attention. In early January the team brought a prototype to Augusta to show the Maine Veterans Coordinating Committee.
According to a 1/4/20 article in the Boothbay Harbor, "13-15 Maine veterans per night need shelter. Homeless veterans face two challenges. One is finding shelter space, and the second is time-consuming red tape of governmental agencies processing paperwork in finding shelter."
When our Damariscotta store heard what this group was up to, they jumped in, supplying the building materials for the project at a discount.
"When we heard of this project, it was a no-brainer to get involved," Damariscotta store General Manager, Eric Dolloff, commented. "This is such a classic example of Yankee Ingenuity and what makes Mainers such special people – always looking for ways to help others. We're proud to support this project and will look for more ways to get involved in the future."
With any luck, the national attention will catapult fundraising and enable the team to scale the model and help solve the Veteran housing crisis, offering temporary shelter while Veterans wait for more permanent housing.
---
Brunswick Teams Up with Rotary Club, Provides Materials for Community High School Project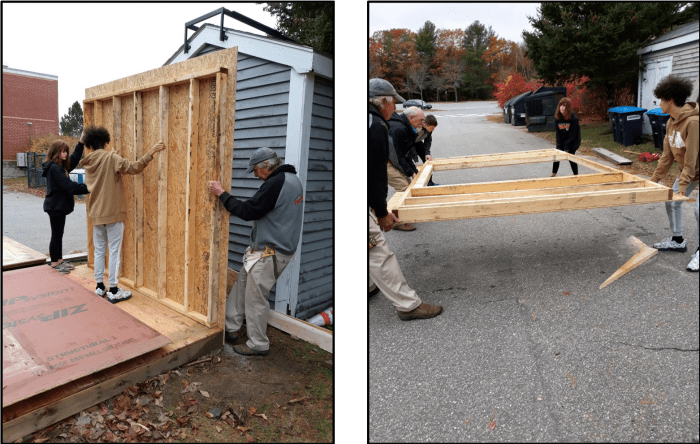 Brunswick, ME – The Brunswick Rotary Club collaborated with Brunswick High School's garden program to create a much-needed shed for their use. Rotarians, Mac and Lucy Lloyd, led ten students in designing and building a the 10' by 12' garden shed, complete with window, sliding door and dragon mascot. Local businesses, including Hancock Lumber and their customer, Creative Cottages LLC, worked together to provide the shed materials. Rotarians Charlie Goldstein and Mac Lloyd worked with the students on designing the shed, and Mac and Lucy Lloyd led the students in the construction of the new building. Thanks to their help, at least ten students have been able to learn carpentry skills, and the garden program, now in its 6th year, finally has its own shed!
"Hancock Lumber manager, Scott Moore, at the Brunswick Store is a champion. Scott continues to be supportive of all the community work that Brunswick Coastal Rotary does, especially our partnership with Habitat for Humanity 7 Rivers headquartered in Topsham, Maine and the Brunswick High School Garden Program. The entire staff at the Church Street location are always looking for ways to help us get the work done in our community to support schools and those community members who are less fortunate. A heartfelt THANKS to Hancock Lumber!"

—Mac and Lucy Lloyd, Rotary Club members and Owners of Creative Cottages, LLC

This is not the first time the two groups have connected to make a difference in the community. Last November, Hancock Lumber contributed to another Brunswick Rotary Club effort, in conjunction with Habitat for Humanity, on an event that raised over $10,000 in an effort to bring affordable workforce housing to the local area.
---
Jugtown Forest, a Treasure in our Community
Casco, ME – A natural jewel spanning 5,000 acres in Casco, Otisfield, and Naples, Maine, Hancock Land's Jugtown Forest is home to one of Maine's best nature trail systems. Throughout the years, groups have enjoyed the marked trial system–whether on foot, horseback, or riding an ATV or snowmobile, the scenes are equally as beautiful and serene, meandering through Maine's majestic eastern white pine trees.
More recently, a group from Otisfield who meets weekly, chose Jugtown Forest as their weekly walking destination. The group–formed eight years ago–selects a new destination for their Friday walks which happen throughout all four of Maine's seasons. Read more online about the community walkers who "take the road less traveled" each Friday.
---
North Conway Supports Tin Mountain Community Programming
North Conway, NH – Hancock Lumber is a proud sponsor of Tin Mountain's Nature Program Series, which brings a multitude of programs and workshops to the local community. The latest offering features Iain MacLeod, executive director of Squam Lakes Natural Science Center, presenting the program "Canaries in the Coalmine: Bird Population Declines in New Hampshire". The program takes place on Thursday, Feb. 13, at 7 p.m. at the Nature Learning Center in Albany, preceded by a potluck dinner Tin Mountain Bird Society potluck at 5:30 p.m.
Situated on Tin Mountain Conservation Center's 138-acre Rockwell Sanctuary on Bald Hill Road in Albany, NH, the Nature Learning Center (NLC) serves as a gathering place for the community and space for programs fostering natural science education and greater of community awareness and cooperation.
Learn more about upcoming Nature Series Programs on Tin Mountain's website!
---
Windham Kitchen Design Showroom Hosts Chamber Business Break
Windham, ME – In celebration of Hancock's 1-year anniversary of opening the Windham kitchen design showroom, the team hosted the Sebago Lake Region Chamber of Commerce business break after hours event on 2/13/20.
Kitchen Designer, Kate Mains, welcomed the community members to the showroom, introduced the team of designers, and spoke a bit about the new space which is one of seven Hancock kitchen design showrooms across Maine and New Hampshire.
---
Click here to learn more about Hancock Lumber's community giving!