Happy Earth Day, and happy 10 years to Tree to Timber! Our company, Hancock Lumber, has been the proud sponsor of the Children's Museum & Theatre of Maine's second floor sustainable forestry and pine manufacturing exhibit since 2005. We love sharing what we do with the thousands of kids and their families who visit the Museum & Theatre every year.In Tree to Timber, we not only get to talk about the process of harvesting trees, we let kids in on the experience. From an interactive video game to a sawmill, children can watch the felling of trees, then help turn the logs into lumber using the sawmill crank. The exhibit is also home to a treehouse where you can build your own structures using interlocking wood blocks – the only limit to what you can build is your imagination!
We're also excited to be a part of the Museum & Theatre's Earth Day celebration this Wednesday, April 22nd, for the second year in a row. Last year's Earth Day festivities were a huge hit: we had a meet and greet with our mascot, Forest Hancock, and gave away over 200 White Pine seedlings to visitors. Eastern White Pine –the kind of trees that grow in our forest and we make into boards—seedlings will be available to children and their families for free again this year (while supplies last). Check out all of the Earth Day activities, including reading stories about forests, planting seeds, and more!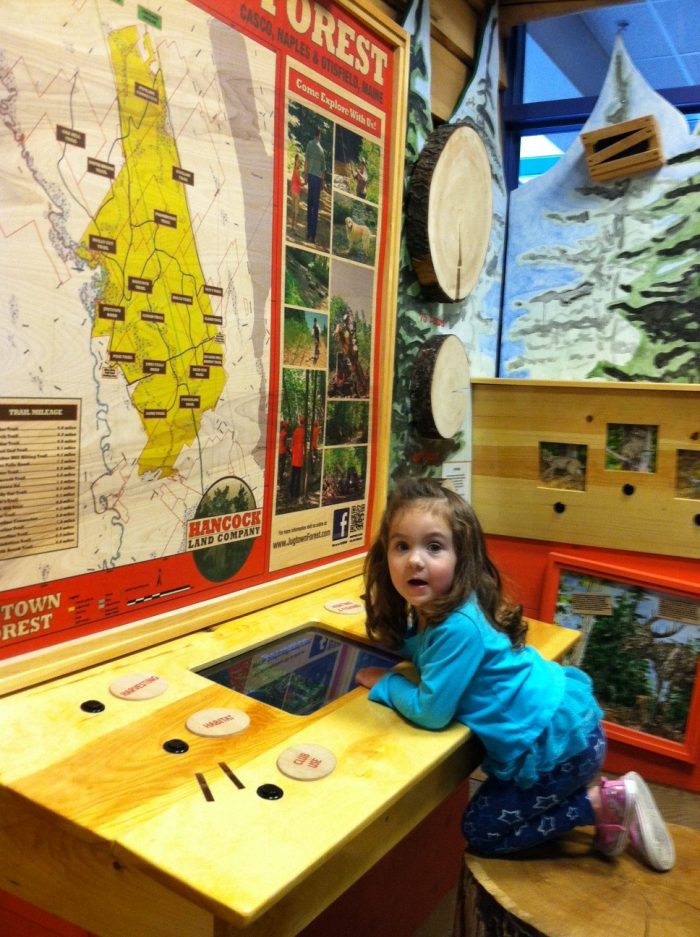 While you're visiting the museum, take a turn at the sawmill or building a home in Tree to Timber, then take home your own seedling and plant a tree for the next generation to enjoy.Hancock Lumber started doing business in Maine over 166 years ago –in 1848! We responsibly manage forests, selectively harvest Eastern White Pine trees to manufacture into boards at our sawmills, ship those boards all over the world and sell them at our 10 lumberyards throughout Maine and New Hampshire! We also sell building materials to contractors and homeowners at those locations. Being connected to the community, however, is one of the most important parts of our business. We are so proud of the space we've created together with the amazing team at the museum and look forward to continuing the partnership for many years to come!